Direct Lift PP8S (standard) Four Post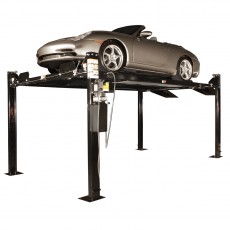 Product Code:
PP8SPY11BKD
The Pro Park 8S four post lift provides the perfect solution for increasing parking space without having to resort to any permanent changes to your shop or property. This car hoist allows you to double your parking space instantly, and is a versatile tool which can be used for any automotive lift and storage needs.
Features:
ALI/ETL Certified
8,000 lbs capacity
Exclusive adjustable lock ladder leveling system, allows your lift to be level at any height even on uneven floors
Single point lock releas
115 Volt operation with standard 115 volt plug provided
Steel approach ramps included
Jack tray included
Caster kit included
4 drip trays included
Durable powder coat finish
Available in black only
Specifications:
Capacity 8,000 lbs.
Lifting Height 72.5"
Overall Length w/Approach Ramps 207-1/2"
Overall Width (with motor) 115"
Overall Width (without motor) 103-1/2""
Overall Length without Approach Ramps 17.5"
Approach Ramps 32"
Runway Width 18-1/2"
Runway Length 169.5"
Runway Thickness 4-1/2"
Clearance Between Columns 94"
Drive through width 80-1/2"
Height of Columns 81.5"
Clearance Between Runways 38"
Outside Runway to Outside Runway 75"
Clearance Under Runways 68"
Power Unit 110 Volt, 1HP
Shipping Weight 1,820 lbs.