Rotary 4 POST LIFT 271 WB 30000 lbs. SM30N011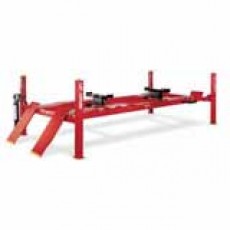 Heavy Duty Surface Mounted Runway-Type Drive-On Lift, With 24" Wide Runway
That Can Be Set For Variable Tread Width Setting. Runways and Ramps Have An Oil Resistant,
Non-Skid Coating. Includes Air Operated Single Point Release Locking Latches.
Internal Air Line with Quick Disconnects.
Electric-Hydraulic Operation.
A. Rotary Lift SM301
1. Capacity: 30,000 lbs.
2. Wheelbase: 271"
3. Overall Length: 28' 8-1/8"
4. Overall Width: 12' 4-13/16"
5. Inside Columns: 132"
6. Between Columns: 285"
7. Height of Columns: 7' 3/4"
8. Rise (from floor to top of runway): 68"
9. Width of Runway: 24" (each)
10. Height of Runway: 8-3/8"
11. Width Between Runways (min.): 41"
12. Width Between Runways (max.): 48"