192-1/2" - Rotary Wheel Alignment Auto Lift (14,000lbs.-Capacity Four Post Open Front)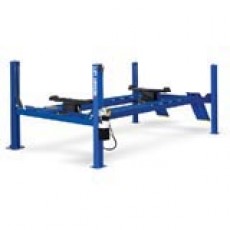 Rotary 14,000lbs.-Capacity Four Post Surface-Mounted Drive-On Auto Lift with open front and wheel alignment action rack system.
This product also features a filter-lubricator regulator for clean, lubricated air, adjustable latch bars to ensure the runways are level, and a dual function Sentinel Lock™ system with a patented slack cable guide arm that stays "on guard" to manage the lock latch.
This lift comes with two FA5153 stainless steel radius gauges and two 7,000lbs.-capacity rolling jacks. Lift rise is 73-3/4", with a recommended bay size of 15' x 26'.
Note: Freight charges for this product are NOT included and will be calculated after order is placed.
Sales taxes will apply in CA, CO, FL, IL, IN, KS, KY, MI, MO, OH, PA, TN, and TX.
A. Rotary Lift ARO14-L
1. Capacity: 14,000 lbs. [7,000 lbs. per runway]
2. Rise: 73 3/4"
3. Length Overall:
Power unit mounted in front of column: 272"
Power unit mounted on side of column: 264"
4. Width Overall:
Power unit mounted in front of column: 139"
Power unit mounted on side of column: 147"
5. Inside of Columns: 117 1/2"
6. Between Columns (Front to Rear): 205"
7. Height of Columns: 95"
8. Width of Runways: 20"
9. Height of Runways: 7"
10. Width Between Runways: 43"
11. Maximum Wheelbase: 192 1/2"
12. Maximum Two Wheel Alignment: 188" *
13. Maximum Four Wheel Alignment: 158" *
14. Power Unit: 2hp 208-230v single-phase motor (3-phase optional)
15. Two Runway assemblies
16. Four Column assemblies
17. Locking latch system at all four columns
18. Two Front Carriage Runway Support assemblies
19. One Rear Continuous Cross Support Yoke assembly
20. Two Runway Ramp Chock assemblies
21. Two Front Wheel Stops
22. One Portable Work Step
23. Two Rolling jacks - 7,000 lb. capacity each
24. Two Full Floating Stainless Steel Radius Gauges – 3,500 lb. capacity each
25. Two Four-Wheel Steer (4WS) Rear Slip Plates
26. Internal Airline Kit
* Based on Tire Diameter of 29 1/2"