Forward Lift I10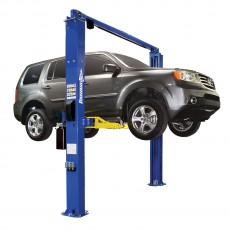 I10 Two-Post Lift Features:
Frame engaging rubber padded truck adapters with multiple extensions to raise most vehicles on the road today. Includes four (each) adapter extensions at 3.5″ and 5″. Spot-Rite™ 3-Stage Front Arms to accommodate vehicles both symmetrically and asymmetrically. This feature allows the technician to position the vehicle doors in front of or behind the column to prevent door damage.
Live near Grand Rapids, MI? We Offer FREE Local Pick Up!
Additional Features:
10,000 lbs. capacity for raising most passenger cars, trucks and vans.
The I10 has been third party tested by ETL and approved by ALI.
3-stage front arm design enables you to position doors in front of the column or behind to avoid door damage.
Adapter storage bracket kit
Hydraulic cylinders in each column:

Top-mounted | Direct pull lifting technology | Cylinder rod concealed inside the carriage