3550 - AFF 50 Ton Capacity Bottle Jack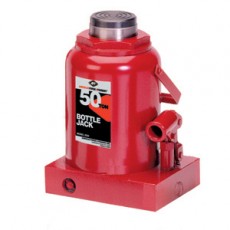 American Forge & Foundry Bottle Jacks are built "Forge-tough" in a wide selection of capacities for automotive, marine, construction, industrial and agricultural applications where the ability to lift, push, spread, bend, press and straighten either horizontally or vertically are essential. All have centered pumps and rams with heat-treated pistons for balance and easy positioning. Their saddles are made of machine hardened steel.
FEATURES
Factory pre-tested to 150% of rated capacity.

Heat treated piston for maximum strength.

Heavy-duty steel saddle for secure lifts.

Centered pump and ram for balance and easy positioning.

Exceeds ANSI standards for performance and safety.