Hunter 20-1626-1 Low-Taper Cones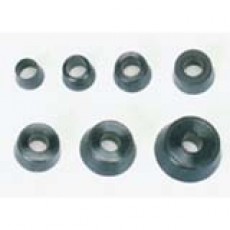 Product Code:
HUN_20-1626-1
Call for Price: 877-805-1154
Wheel mounting adaptor Kit
Fits the majority of passenger-car and light- truck wheels up to 3/4-ton capacity. Consists of 7 low-taper cones: 5 passenger car and 2 light truck. Range: 1.69"-5.18"
All cones include low-degree tapers suitable for third-generation
Hunter balancers.
Kit includes:
1.69 in. to 2.23 in. (43 mm to 57 mm)
2.15 in. to 2.58 in. (55 mm to 66 mm)
2.50 in. to 2.94 in. (64 mm to 75 mm)
2.85 in. to 3.28 in. (72 mm to 83 mm)
3.20 in. to 3.63 in. (81 mm to 92 mm)
3.45 in. to 4.36 in. (88 mm to 111 mm)
4.24 in. to 5.18 in. (108 mm to 132 mm)